Haverford High School
Class Of 1962
HHS62 - 60th Reunion
Our faithful committee has been working hard in preparation for the 60th. A second meeting is scheduled for September 22, 2021 to work on the details. The Reunion site will be the Desmond Hotel in Malvern (location of the 55th), with a welcome reception on Friday, September 23, 2022 and a luncheon on Saturday, September 24, 2022. Please add these dates to your calendar for we are hoping for a big turnout. A brief survey will follow shortly, and we ask you to respond as soon as possible to assist us in planning. In the meantime, please contact Bill King at 973-459-8164 or wnking@ptd.net with any questions.
Some of the committee seen at the 55th Reunion
Visit with Coach and Teacher Frank McLaughlin
I had the great pleasure recently to visit with Mr. Frank McLaughlin, HHS track coach and English teacher during our high school days. Mr. McLaughlin was an HHS grad and All-American runner at St. Joseph University, setting many records along the way and is a member of the SJU Hall of Fame. On a personal level, he was a mentor and role model to me both as a teacher and a coach. I have stayed in touch with our cross country coach, William Jackson (doing well and living in North Carolina) over the years, and he was able to connect me with Coach McLaughlin. Frank McLaughlin and his wife, Ruth, live in Beach Haven on Long Beach Island, NJ. and were the hosts for a wonderful lunch and visit at their house on August 23, 2021.
It would be interesting to research how many of our HHS teachers are still with us and where they are located.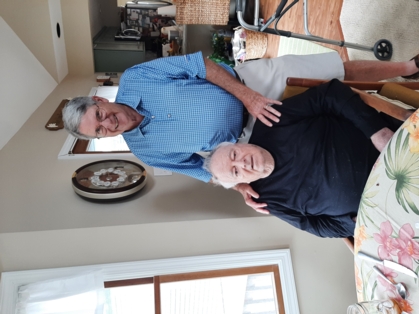 Coach Frank Mclaughlin and Bill King at the McLaughlin's house on Long Beach Island - 8/23/2021.
The Passing of Roger Davenport
We regret to inform you of the recent passing of Roger Davenport of HHS 62. We are losing far too many at far too young of an age. Roger had a long and fulfilling career as a police officer with the Havertown Police Department. His obituary can be found at www.heffnercare.com.