Haverford High School
Class Of 1962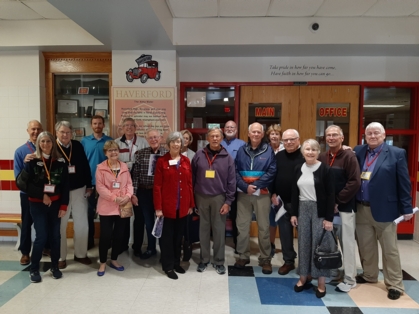 Tour of Haverford High School - September 24, 2022
Left to right: Neal Basile, Linda King, Bill King, Blu Taylor (tour guide and webmaster of school district), Anne Matternes Congdon, Doug Paulin, Ralph Kirchhofer, Bette Ann Brehmeyer Oppenheim, Phyllis Paulin, Berkley Kirchhofer, Bob Edwards, Tom Steele, Leigh Hershey, David Smith, Kathy Guenther Edwards, Scott Hershey, John Black.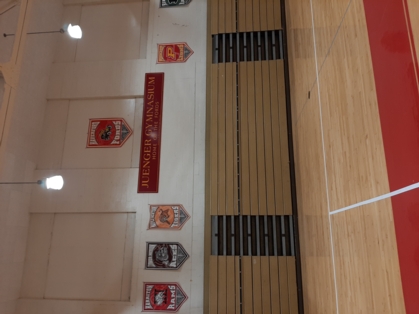 The Juenger Gymnasium
The gymnasium was named after Stephen Juenger, coach and beloved teacher at HHS for 55 years. The Juenger Scholarship Fund was established in his name in 2004 and since then has awarded close to $200,000 in scholarships to very deserving Haverford students. We are pleased to announce that at the reunion $320 was collected from classmates to donate to the Fund. Once the books are closed, the Reunion Committee plans to add to that amount and make a donation on behalf of the Class of 1962. If any classmates would like to donate individually, you may do so by sending a check made out to the "Philadelphia Foundation" at PO Box 826728, Philadelphia, PA 19182-6728. Please write in the memo line: "For the Non-Endowed Fund for the Juenger Memorial Fund". Thank you. This is a great way to give back to the school that gave so much to all of us!
HHS62 - 60th Reunion - Wrap-up
The 60th Reunion is in the books. All the photos taken by Tom Juenger have been posted on the website. Go to the Home Page and click on "60th Reunion Reception Photos" and "60th Reunion Luncheon Photos" to view. If anyone who attended the Reunion took photos and would like them posted, please send them to Bill King at wnking@ptd.net. Thanks to the committee for their hard work. They are pictured below at a follow-up lunch meeting a few weeks after the Reunion.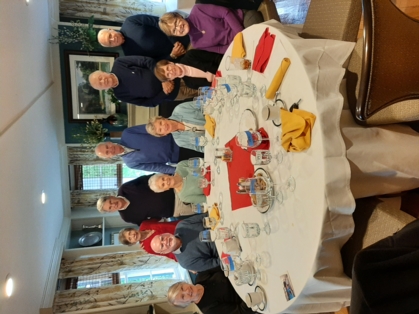 Seated: Bob and Kathy Guenther Edwards, Cheryl Kirk Flail (host of the luncheon at Glenhardie CC), Claudia Ash King, Helen Martindale Roberts, Anne Matternes Congdon. Standing: Frauke Saalmann Vogel, Bill King, Neal Basile, John Salyer, Fred Quercetti.
Arthur Tuttle
Many have wondered over the years about our classmate Arthur Tuttle. Art was blind, but a great student who attended class every day with his service dog. Anyone remember the name? Dave Bokyo recently informed me that Arthur is alive and well and living in Texas with his wife. Dave had been in touch with Art's sister Janice of HHS65.
Passing of Frank McLaughlin - HHS Teacher and Coach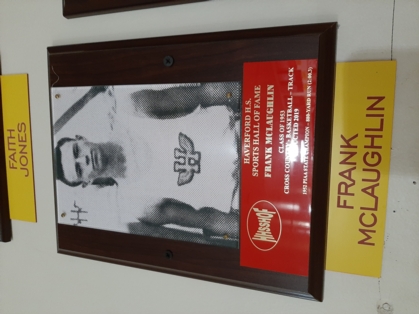 I regret to inform you of the passing of Frank McLaughlin in November. I reconnected with our coach a few years back and had the pleasure of visiting the McLaughlins twice in their home in Beach Haven. Mrs. McLaughlin called me with the sad news and Neal Basile also sent the obituary which can be seen at obit.nj.com/frankmclaughlin. Frank McLaughlin was a1952 HHS grad, star athlete inducted into the Haverford Hall of Fame in 2019 (photo attached), and then attended St. Joseph's where he was an All-American runner holding numerous records. He was also a member of Saint Joseph's Hall of Fame. After college he served in the Army, and then returned to Haverford as a teacher and coach of the track team. He was a remarkable role model and I am sure many of you had similar very positive experiences with Frank McLaughlin. Bill King
HISTORY OF SCHOOL SEAL
Thanks to Cheryl Kirk Flail, we now know the origin of our impressive school seal. Cheryl's father, Logan Kirk HHS26 and another classmate, designed the seal with the encouragement of the school superintendent. The seal was adopted in 1926 and has remained official ever since. Cheryl's father, Logan Kirk served as a Board of Education member for many years later in life. The Kirk family has truly been important in the history of the Haverford Township School District. Click on the link below to see a descriptive article of the seal's origin, published in 1989 in the Alumni Press, a former publication of the District. In the same article was news of a reunion luncheon of retired staff members, many of whom you will recognize. Thanks for bringing this to our attention, Cheryl.
Descriptive Article from the 1983 Alumni Press
The Passing of Gwen Gartland Scalpello
We are saddended to report that Gwen Gartland Scalpello passed away on November 25, 2022 in Vail, Colorado. We received word of this from Susan LeCates Kaemmerlen. Gwen was an important member of our class and a friend to everyone. She will be missed. Her obituary can be found by going to www.vaildaily.com and clicking on obituaries.