Haverford High School
Class Of 1962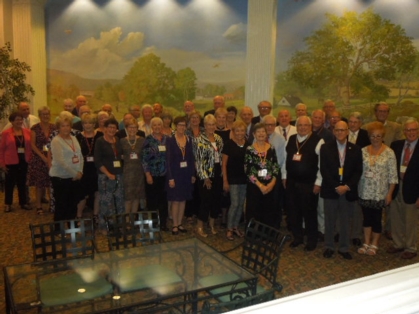 A fine-looking class! This group photo was taken at the end of the evening on October 23, 2017 at HHS62's 55th Reunion. Almost 80 classmates and their guests attended.
Photos have been added to the site on October 6, 2017 of the Friday night cocktail hour and the Saturday night Reunion. These photos were taken by our official and talented photographer, Tom Juenger. Thanks Tom! To view pictures, hit tab on left entitled "55th Reunion Photos". If anyone has additional pictures of the event that you would like to add to the site, please send them to Bill King at wnking@embarqmail.com. Thanks to all for a very successful Reunion.
If you are a member of the website and you have moved or changed any of your contact information since you originally signed on to the website, please update that on the site. This is easy to do by going to "Member Functions" and then click on "Edit Contact Info". This is really important since a number of the invitation/registration envelopes were returned due to incorrect address.